Good morning and Happy Tuesday! I hope you had a wonderful weekend celebrating with friends and family, and hopefully remembering those people who are serving or have served our country for all of us! It was a gorgeous day up here in NH and I was so thankful for a nice, long weekend with Brian around. Yesterday there were threats of rain in the morning, but by lunch we had sunny skies and steamy temps.
Thanks for coming by for the 6th edition of Photo Tales Tuesday! My photo today was taken yesterday, on Memorial Day, as we waited for a local parade to go by. We just happened to plant ourselves right next to a parked ice cream truck and if you ask Collin I am sure he'd tell you in his own words that it was the perfect way to beat the heat.
What little boy wouldn't love a blue, Batman-shaped, gumball eyed ice cream bar?!
If I had a good after picture you'd see that Collin thoroughly enjoyed his ice cream. Haha!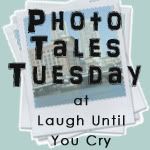 It is easy to join in! All you need to do is post a picture and tell about it, share this button or a link to this post, and link your post up down below! Entries close Friday and over the weekend I will pick an entry at random to be featured here on Monday! I look forward to reading your stories!